Because I had some questions about how to change your registration to also state you'd like to apply as a gopher, here it is, illustrated!
This same method can also be used to edit your regular registration information, for instance, to add or remove a ticket.
First, go to the regular old registration page that you used to register. Or, if you haven't registered yet, to do so now! Link:
http://registration.abunaicon.nl/
STEP 1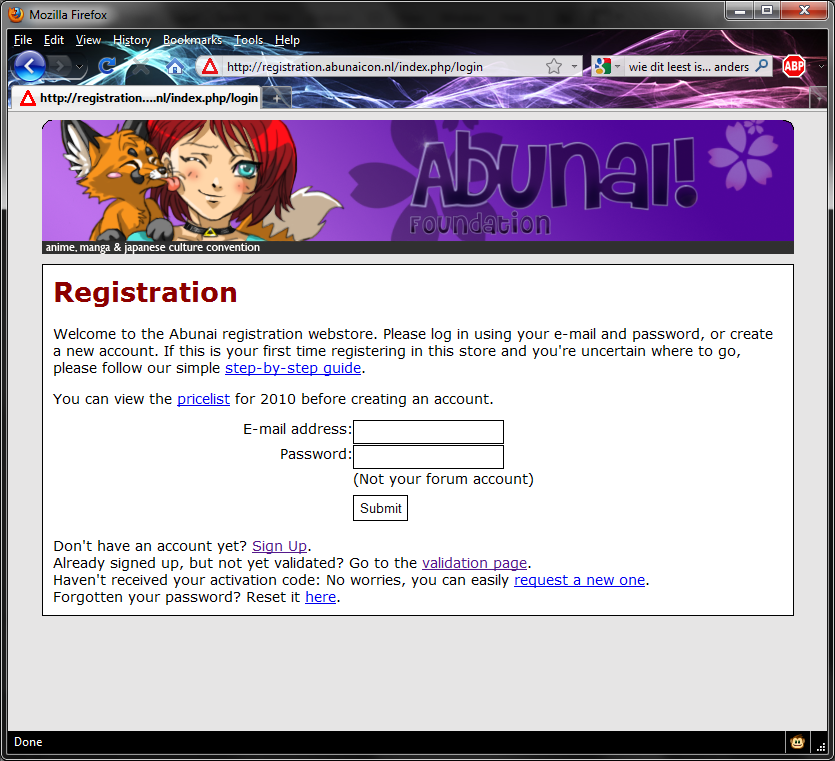 Here,
enter your account information.
If you forgot... well... you shouldn't. I can't help you with that. If you remember the email you used, maybe try the 'reset password' link at the bottom?
STEP 2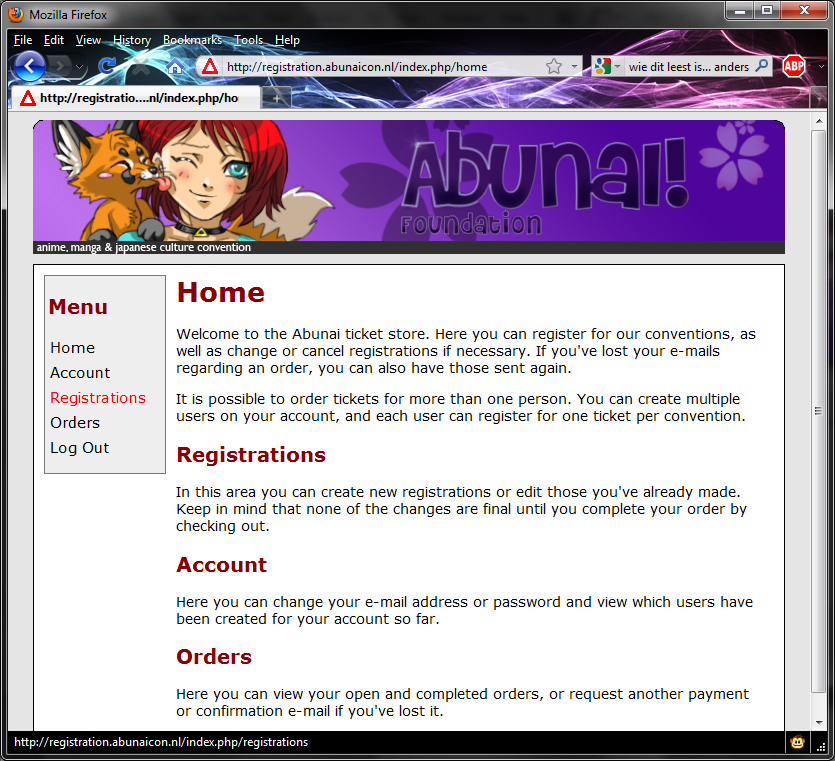 After logging in, you get to this page. I'm hovering over the
'Registrations'
link on the left with my mouse so that it's red, that's the one you need to click.
(In case you're wondering: you can't see the mouse because this is a regular old screenshot made with the default screenshot functionality. Try it for yourself: Print Screen button, then Ctrl+V in a new document in MSPaint or Photoshop or whatever.)
STEP 3
Press the button that says 'Select'.
Yeah, not too many options to pick from here yet.
STEP 4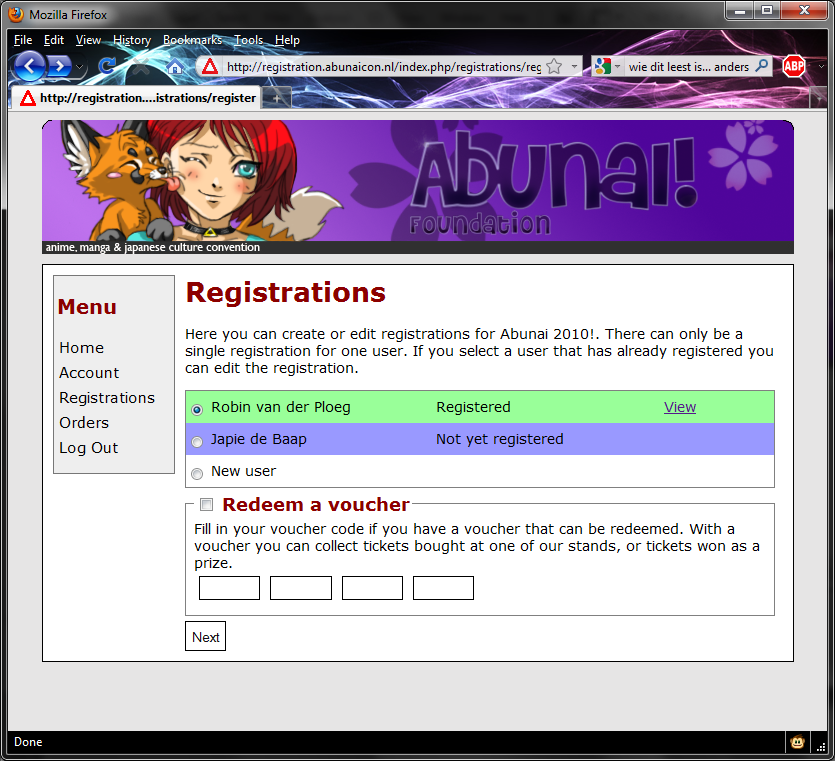 And there's my account! Nothing too interesting, except perhaps the notion that my real name isn't actually Jake. Don't mind that second account there, that's for testing purposes. =P
Here,
select the person you want to add a gopher registration to
by using the 'radio button' to the left of that person's name.
Do NOT press 'View'.
Instead,
press the button that says 'Next'
below the 'Redeem a voucher' thing there.
STEP 5
Scroll down
, all the way to the bottom, and you should see what's on the screenshot here.
DON'T TOUCH ANYTHING ELSE.
That is, unless you want your registration altered. You don't want to end up without a hotelroom if you had one, or suddenly find yourself without tickets to the convention, do you?
Once you scrolled down: there you go, buttons! Now, you might notice that if you press one, the other is disabled. This is so people can enter their
preference: the regular gopher shifts, or the 'steward' shifts
which place you under the steward manager. Explanations on what they are and the difference between the two can be found on the website
here
.
And finally,
there's a box to add an email address so we know where to send you important gopher information
(so don't use an email address you never check!). This does not have to be the same as the one you entered in step 1, and in fact it might be better if you enter a different one for all the gophers on one account. So if there are 4 people registered on the same account (1 email address in step 1 used for all 4), you can give all of them a different email address here, and they'll all receive information on their personal account. ... I'm not even sure if it's possible to use the same email address twice. =/
I'd like to add an important bit of information that is not on this page.
If you select 'I want to be a gopher', you might still be asked as a steward, and picking 'I want to be a steward' does not guarantee you won't be given gopher shifts instead.
At Abunai, the volunteers are all the same.
The staff has the final say in who is given what kind of shifts, based on their information and prior knowledge of the volunteers, to try and give everybody the shifts they are best suited for. The buttons are only there so you can enter your preference, in an attempt to 'steer' the staff. I guess everybody is able to understand though that if we have 70 steward applications, they aren't all going to get what they wanted. =P
After selecting your preference and entering an email address,
press 'Register + Check Out'
. That should do it.
Hope this helps! Questions about other gopher-related things can be asked in this forum section, if it isn't already there. Speaking of which: before asking a question you might want to check the updated
gopher information page
and
gopher FAQ on the website
, as well. =)