Hello and welcome to another installation of Jake's tutorials! This one will explain how you ask permission to join the Gophers usergroup, which (if you're accepted) will allow you to see and post in the hidden Gophers [Private] section of this forum!
Please note: you will
not
be accepted in the usergroup if you are not a gopher (this year).
Simply asking permission to join the usergroup on this forum will not make you a gopher.
Q:
I was a gopher last year / the year before that, and I'm still part of the Gophers usergroup. What do I need to do?
A:
Fill out the GPF and make sure you enter the correct nickname. I'll (very) soon clear out the list of members so only the nicknames in the system are still part of it. Which means that if you don't fill out the GPF soon, you'll need to send a request to join the usergroup again! I think you will agree that that is not the easiest way of doing things. So just be smart and fill out that form today!
Q:
What's the correct way of doing things?
A:
Glad you asked, me!
- First register for the convention and check 'I want to be a gopher/steward'. (See my
previous tutorial!
)
- Then fill out the GPF (the online form) and enter your forum nickname there. After the previous step, you should have received a login for this. Either because you got one as part of the huge group who got them at the same time, or because you got it after you registered as one of the late entries.
Please make sure you enter the right nickname in the GPF:
very similar names for different people are often found on this forum. When in doubt, I might reject your request to join the usergroup on this forum!
- Last but not least, follow the steps shown below.
STEP 1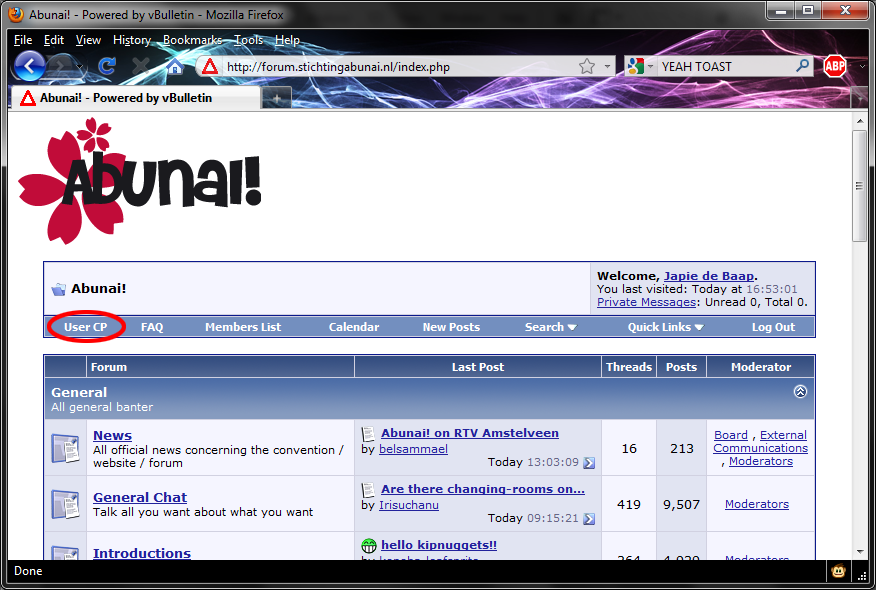 After registering yourself for the convention (and as a gopher/steward), and filling out the GPF through our very hip and trendy online form website thing, login
AS THE RIGHT USER
(so not your brother/sister/grandma or something) and press 'User CP' (User Control Panel) as indicated above.
STEP 2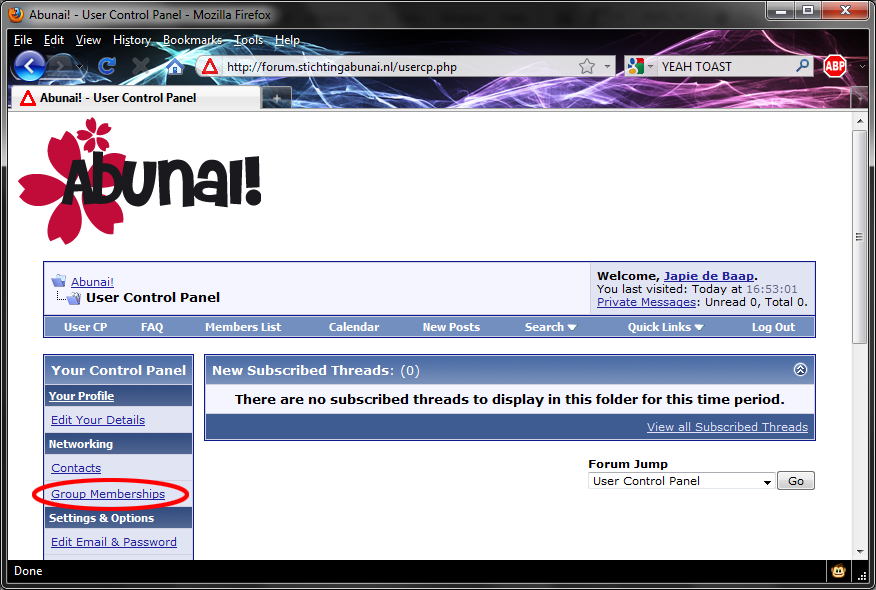 The next step is going to your group memberships overview by pressing the link as indicated.
STEP 3
You should now see (something similar to) the above. Simply select the radio button next to 'Join Group', to the right of the 'Gophers' usergroup. When selected (as in the above picture), press 'Join Group'.
STEP 4
I've seen dozens of different things entered as the request reason (yes, as group moderator, I get to see what you enter when approving/rejecting you). You don't need to be creative, the easiest for me is if you enter:
- What you applied as (Gopher/Steward) (I also added the year here, but it's not really necessary as I later found out I can see the date you sent your request)
- Your
FULL NAME
,
not
your nickname (although they are the same in the screenshot). This is an extra check: if you entered a wrong nickname in the GPF, I won't automatically reject your request but try to contact you through the contact information entered for your full name first.
I can't stop you from getting creative, but it will mean more work / chaos for me. At least try to make sure whatever you enter has at least the above information, okay?
STEP 5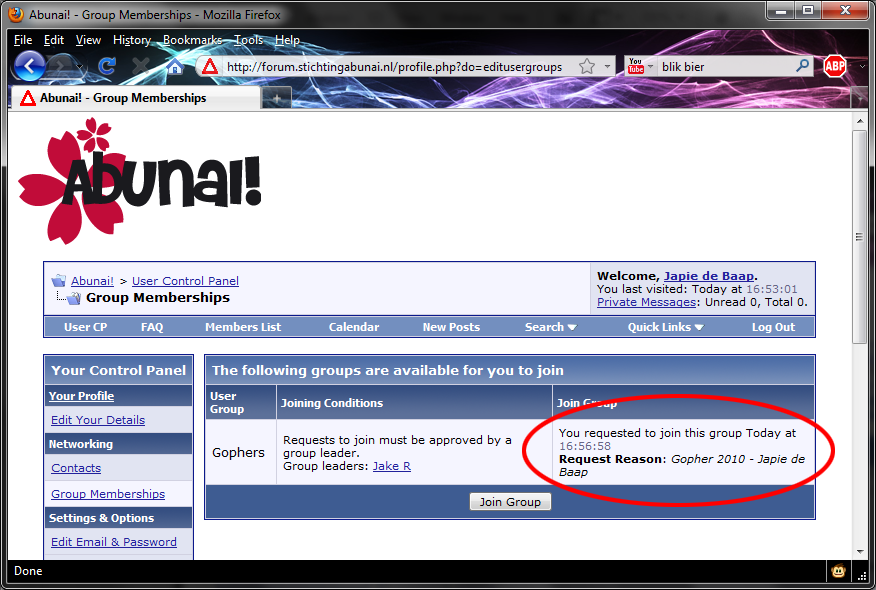 After that, this should be what you see next. Now all that's left is wait. If you're accepted as a gopher/steward, and I have the time to accept your registration, you should soon be able to see the fabled and mysterious "Gophers [Private]" section!